CamIQ 5 now available
CamIQ 5 with many new features and improvements is now available to you.
Beyond this, CamIQ 5 offers an interface for the new CamIQ Cloud Services as well as a CamIQ App for iPhone and iPad with which you can have perfect access, at any time, to your CamIQ installations.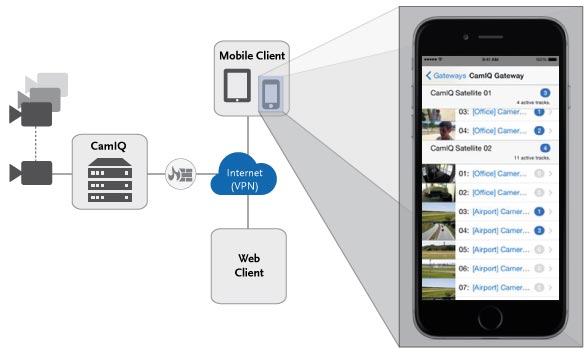 Distributed CamIQ installations can be centrally combined in one account using the CamIQ Cloud connection. Using the CamIQ Cloud Services you can configure which mobile devices (later on: evaluation platforms, surveillance centers) should be informed about events. Your video surveillance system can be quickly and easily analyzed using standard web browsers without the need to install a client!
The new CamIQ App for iPhone and iPad enables you to conveniently evaluate live images, permanent track recordings and event logs of CamIQ servers. In a targeted and active manner, attention can be drawn to important events by means of push messages. The CamIQ App is available as of immediately and can already be downloaded from the App Store.

Noteworthy here is as well the new design of the software interface in CamIQ 5. The new interface is uncluttered and modern, while also enabling easier handling with touch screens.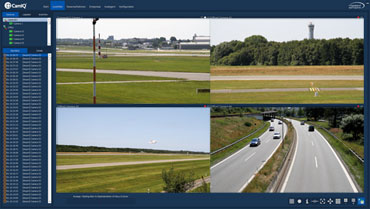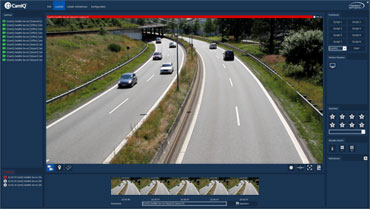 Improvements and new features of CamIQ 5
• Standardly integrated Mini Site Plan in the CamIQ Client (former Extended Client Option)
• Multiple client instances from one workstation can connect with a CamIQ Server in the new standard version CamIQ 5.0 (former Extended Client Option)
• Correct display of cameras with image format 8:3
• An improved POS/ATM module - the allocation of several tracks to one device is possible
• User permissions can be managed using roles
• A new and more flexible license model is available for CamIQ Enterprise (former Control): Activations of cameras per CamIQ Server (former Satellite) instead of per Enterprise station
• CamIQ Dispatcher - communication between CamIQ installations amongst themselves and an interface for the optional CamIQ Cloud Services
Copyright © 2015 rosemann software GmbH (Germany). CamIQ, the CamIQ logo and rosemann are registered trademarks of rosemann software GmbH. * Other trademarks can be the brand names or registered trademarks of other proprietors. All rights reserved.
Apple, the Apple logo, iPhone, and iPod touch are trademarks of Apple Inc., registered in the U.S. and other countries. App Store is a service mark of Apple Inc.